Two oil tankers conveying tonnes of naphtha, a petrochemical feed-stock, when it was "suspected of being hit by a torpedo", said Wu I-Fang from Taiwan's state oil refiner CPC, which chartered the tanker. Iran state media reported that the Front Altair had sunk, though the ship's operator, Front-line, said this was not the case. Two oil tankers conveying
Reports coming in from Hezbollah-linked news agency in Lebanon that accurately reported previous attacks in May from the golf of Oman two oil tankers was hit. Following the maximum economic pressure by the US on Tehran in an attempt to resume talks on the 2015 nuclear deal, which the US tabled out of last year. the Gulf has been a boiling point for weeks.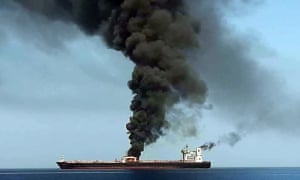 The Kokuna courageous was wrecked in the attack that breached the hull above the water line while on passage in Saudi Arabia to Singapore – Bernhard Schulte Shipmanagement said. "The ship is safely afloat," it added.
Following a distress call from the US Navy 5th Fleet said to be assisting tankers the region off the coast of United Arab Emirate near strategic strait of Hormuz.
However, the US blamed the attacks on Iran, same accusation Tehran denied.
The latest incident came as the Japanese prime minister, Shinzō Abe, held talks with the Iranian leadership in Tehran in a bid to find a basis for discussions between the US and Iran. Japan's trade ministry said the two oil tankers involved in Thursday's incidents carried "Japan-related" cargo.
The Japanese stressed they were not bringing specific messages from the US president, Donald Trump, and said nothing in the first day of talks suggested a breakthrough was imminent.
Abe, seen as close to Trump but also a supporter of the original 2015 deal, met both the Iranian foreign minister, Javad Zarif, and the president, Hassan Rouhani. On Thursday Abe also met Iran's supreme leader, Ayatollah Ali Khamenei.